A couple of years ago, if I mention Clogs, you probably would roll your eyes and think to yourself, what is wrong with this girl? But now, they are the hottest new shoe trend! Heck, all the big designers are doing it, why would you doubt now? (Oh, how fashion changes so fast right in front of us....)
These "new age" clogs are not your ordinary granny shoes, they are sky high, extremely stylish, and fabulous. Hurry before everyone else gets them!
Chanel 5 O'Clogs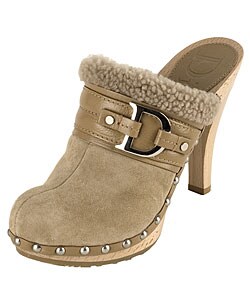 Aaaaaand the more affordable ones...
Vera Wang Lavender Label 'Daisey' Hidden Platform Clog $159.90