Discovering
Emilio Pucci
was a complete accident and a happy surprise. I was on my way to work one day, and at the time, my commute included a 10 min walk in an underground shopping mall. I noticed these beautiful pairs of sunglasses in the window of a very plain looking eyeglasses shop. There was "something" about these sunglasses that spoke to me, and I fell in love with "it" immediately without knowing what "it" really was. The name kept on coming back to my mind, so I googled the name, and was absolutely stunned by what I found. Pucci is
synonymous
with
geometric prints in a kaleidoscope of colors, and that, is what grabbed my attention. Whether its accessories, cosmetics, clothing or shoes, the Pucci characteristics are symbolic, unique and noticeable.
I became a little bit more inspired as a designer-wannabe. I need to find my own unique characteristic that distinguishes myself from everyone else, and I think I can slowly envision it, whatever "it" is.
A typical pattern of Emilio Pucci:
On the Runway:
Other Products:
SHOES!! Emilio Pucci shoes are pieces of artwork, and I really have no other words for them. The usage of pattens and colors goes perfectly with their unique designs. They are just breathe-taking.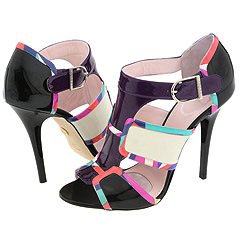 Emilio's life story is also inspiring. A politician, a sportsman and a Italian Air Force bomber pilot during WWII, became a fashion designer due to veering force of life, accidental, natural and rewarding. It made me think about the idea of destiny. Are the things that we want to do really are what we were supposed to do? and if most success stemmed from accidents, do we really want to have our minds set on one goal? or is going with the veering force of life a better and easier way of dealing with the idea of destiny? Destiny is simply where life ended up taking us, and not really what we were supposed to achieve... I continue to wonder.